Garage Doors With vs. Without Windows
Windows on garage doors are a detail that transforms a simple, solid-paneled garage door into a modern, artistic garage door.
Some worry about the security and vulnerability of a garage door with windows. In this article, we want to walk you through the pros and cons of windows in garage doors and what you should expect when you have one installed.
Benefits of Garage Doors With Windows
There are a lot more benefits than people realize in having a garage door with windows:
1. They Allow Natural Light In
The great thing about garage doors with windows is letting in natural light while the doors are closed. If you want as much natural light in your home as possible, wouldn't you want it in your garage, too?
Natural light pouring in has benefits in itself. No longer will you have to make your way through the dark to get to a light switch. And that flickering bulb over the workbench will be unnecessary during daytime hours. If your home's washer and dryer are in the garage, like many in San Diego, the natural daytime light will mean you can carry a laundry basket safely without the need to hit a light switch first.
Perhaps the most significant benefit of natural light is energy savings. You won't have to turn the lights on in the garage as often, and you also won't have a chance to forget to turn them off. That'll give you substantial savings on your energy bill down the road.
Plus, your door's thermal resistance should still be nominal with small windows and thorough insulation.
2. They're Customizable
One of the beauties of garage doors is that you can be creative with them. Your design options extend to the windows you want to add, too. And you have a lot of choices available to you.
You can have one or two rows of windows, large rectangular panes, or you can take advantage of many other panel and window designs. Maybe you'll choose something more ornate, with differently sized rectangles alternating up and down each door panel, or a design with a colored centerpiece, like a diamond or half-crescent. These designs can go symmetrically across the door or in an arch.
Another beautiful thing about customizing your garage door windows is matching them to your household windows. This option is even more tempting if you just remodeled your home's exterior and waited to do your garage last.
Your ability to customize doesn't end with the window design, either. It also extends to the type of glass you can choose. If your garage is attached to your home or is more of a workshop than a storage space, consider getting insulated, double-paned windows for added energy efficiency.
Depending on the garage door style you choose, you have multiple glass options for your windows, including:
Clear
Tinted
Laminate
Acrylic
Frosted
Mirrored
Seeded
Rain
Frosted Gluechip
Delta Frost
Narrow Reed
Consult your desired product's brochure to discover the available options.
3. They Improve Curb Appeal
Garage doors with windows are simply better looking than most of their solid counterparts, regardless of panel design and color. By adding windows, you're breaking up the simple pattern of the panel and adding aesthetic appeal.
Adding form to the function of your garage door will increase your home's curb appeal and drive up its value.
Common Concerns About Garage Door Windows
People sometimes have concerns with adding windows to their garage doors. But these concerns shouldn't be enough to dissuade you from getting a garage door with windows. We want to help dispel some myths and offer advice from our many years of experience.
Privacy
One of the first concerns people think of is privacy. With windows, you may be concerned that outsiders will be able to see into your garage.
We get it! But here are a few things to consider as well. Most garage door windows are positioned at such a height that most people won't see through them. This feature makes them essential for letting in that coveted natural light without giving prying eyes a chance to peek.
Tinted or frosted glass options are also available so that outsiders will have a tough time seeing through them.
We're not saying that all glass garage doors are completely safe, but we're saying there are many options to consider to protect your home while still getting that modern style you want!
Broken Glass
Another concern many people have is about glass breaking. No matter where the window is, breaks are always a possibility.
Stray rocks flung up from a lawnmower or kids playing sports can pose a danger to your windows.
To help avoid damage, consider getting tempered glass, a more resilient glass choice for garage doors.
Something else to consider — replacing glass panels on garage doors is cheaper and easier than panels on steel or aluminum garage doors.
Garage Door Balance
Garage door opener systems operate by lifting the door evenly. These systems are programmed to take weight distribution into account. If this gets thrown off, it can cause your opener to malfunction and potentially cause the door to fall.
If your door came with windows and was installed by a professional, this won't be an issue. However, if this is a project you're taking on yourself, be sure to gauge the added weight to your door. Make sure that your motor can handle the weight. We'd always recommend contacting a garage door specialist to install a garage door with windows, or at least to ensure the lift system can handle the load.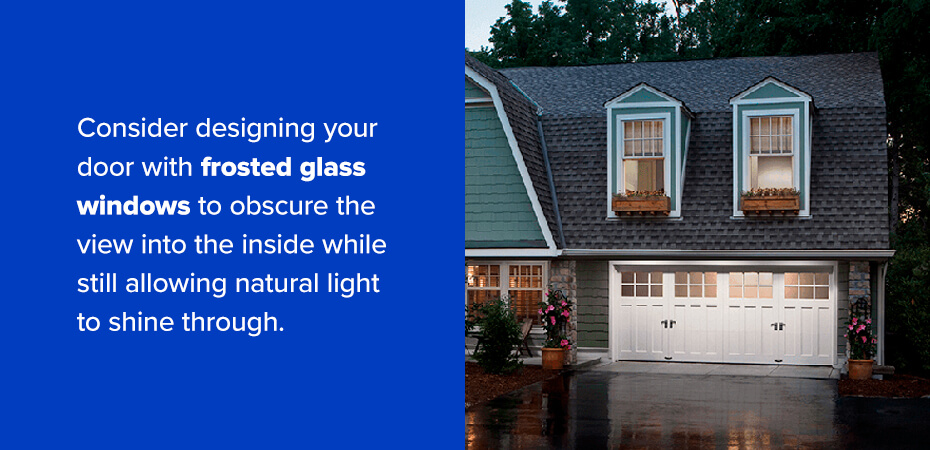 Are Garage Door Windows Safe?
The window design affects your garage door's safety. You may think having glass on your garage door makes your property more vulnerable to theft and break-ins. On the other hand, when you choose thick, double-pane windows for your garage door, you enhance its safety and energy efficiency.
You may also want to place your windows higher on the door to limit visibility into your living space. Consider designing your door with frosted glass windows to obscure the view into the inside while still allowing natural light to shine through.
Will Garage Door Windows Reduce Insulation?
Garage door windows can add to or reduce insulation, depending on the type of window you select. Low-quality windows can let drafts into your living space and lower your home's energy efficiency. However, you can upgrade to insulated garage door windows featuring two panes of glass.
When you get your garage door installed and sealed by a professional garage door technician, the door will keep its energy efficiency. Consider your local area's weather conditions to find windows with the best R-value or thermal resistance for your property.
Contact Easy Open Door for Beautiful Garage Doors
At Easy Open Door, we understand the importance of adding beauty to your home — especially in the form of an exquisitely designed garage door. That's why we offer garage doors from Clopay® — the makers of some of the most aesthetically appealing garage doors on the market.
We have been in business for nearly 40 years. Our technicians have years of experience installing garage doors successfully, with or without windows. We follow the manufacturer's directions for installation every time and offer their warranty on all the products we install. We also offer a one-year labor warranty so that if any problems arise, we're there to take care of them for you.
If you want to install a new, custom garage door for your home in the San Diego County area, call us or fill out our online form for a free estimate today.