How to Choose the Right Garage Door Size
If you have made the decision to replace your garage door, you have a wide variety of amazing garage doors on the market to choose from. You can find the garage door that is a perfect fit for your home in terms of color, style and features. As you browse your options, you need to make sure you find one that is the perfect size for your garage. How do you find the right-sized garage door for your needs? Follow this simple guide.
What Is the Standard Size for a Garage Door?
A standard garage door size is entirely dependent on the type of garage you have. The most common garage door sizes are one-car, two-car and three-car.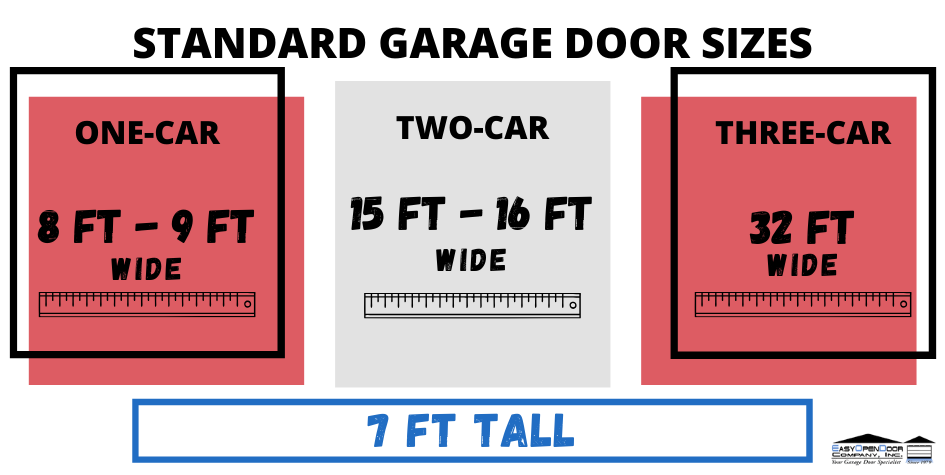 One-Car Garage
Some smaller homes have a single-car garage with a typical size of 8 feet wide (2.4 meters). Some are 9 feet wide (2.7 meters) for a bit of extra clearance. If you are using your single-car garage for a non-standard vehicle like a golf cart, it may be a couple of feet less.
Two-Car Garage
A two-car garage has a standard width of about twice that of a single car garage. They are usually 15 or 16 feet wide. (4.6-4.9 meters). This space is enough to allow one car to get in or out while the other car is parked — assuming it is parked to allow for sufficient clearance. It is not recommended that you try entering or exiting the garage with both cars at the same time, as clearance will be quite limited.
Three-Car Garage
A three-car garage is typically 32 feet or about 9.8 meters wide. If a two-car garage is twice as wide as a single car garage, it may seem like a three-car garage should be only a third wider than a two-car garage. However, it is important to consider the amount of clearance required between the car in the middle and the car on either side. It is possible to buy a garage door that is about 32 feet wide to fit a three-car garage, but homeowners often prefer to install two standard 15-foot or 16-foot garage doors.
Regardless of the width or other dimensions, the height of any standard garage door is 7 feet (2.1 meters). In addition, 8-foot doors (2.4 meters) are not uncommon, but anything higher is considered a custom size.
What Size Garage Door Do I Need?
Which size garage door is right for your home? The answer depends on the size of your garage.
If you have a standard two-car garage, you will probably need a 15-foot or 16-foot garage door. If you have a standard three-car garage, you may need two of these doors or an extra-wide garage door of about 32 feet.
You will want to measure the opening of your garage to verify the width and height you need.
How to Measure Your Garage for a Door
Measuring your garage to find the right garage door size is probably one of the least appealing aspects of buying a new garage door, but it can be simple. Here's what you need to do:
Get a tape measure to measure the width of your garage door opening.
Measure from the inside, horizontally from left to right. Take note to see if the opening on either side is in any way irregular, rather than a level and uniform side from top to bottom.

Even if you don't see any irregularities, measure from a few different locations along the side of the garage door to make sure you have the right number. If you have a two-car garage and you get a measurement far from the standard 15 feet or 16 feet, you may want to measure again.

Measure the height of the door opening, starting from the highest point and going down to the floor. You should come up with a number around 7 feet.
Take a few other measurements for installation purposes. This includes the width between the opening for the garage door and the actual side of your garage, the headroom (the distance between the top of the door opening and the ceiling), and the ceiling itself (the distance from the opening at the top of the garage door area to the rear of the garage).
These measurements could inform some important decisions such as whether you need extension springs or torsion springs as part of your garage door opening mechanism.
Let Easy Open Door Install Your New Garage Door Today
Once you've taken all your measurements, you're ready to find your new door! If you are in the San Diego County area, Easy Open Door can help you find the right door for your home and install it for you quickly and accurately.
We are a Master Authorized Dealer® of Clopay® products with access to some of the highest quality garage doors available. You can see for yourself by uploading a photo of your garage to the Clopay Door Imagination System and trying different garage door styles.
When you've found the right door for your home, contact us for an estimate and to schedule a service for installing your new door. We'll make sure it's just the right fit!