Installing outdoor lighting is an effective way to enhance your curb appeal and make your home as beautiful as ever. In addition to its aesthetic benefits, outdoor lighting increases the security and safety of your property. There are numerous types of exterior lights and different places you should install them.
We've compiled this exterior lighting design guide to give you all the information you need to start lighting up the exterior of your home to make your outdoor spaces more inviting.
7 Common Outdoor Lighting Options
The possibilities for outdoor lighting are endless. Some are better for making an area brighter and more functional, while others accentuate the decorative features of your home and landscape. Some create a warm and inviting ambiance that increases the comfort of your outdoor spaces. No matter your goal for your outdoor area, you have various options to consider.
One point to keep in mind for any kind of exterior lighting is glare. The lights should produce just enough light to create a glow — but not so much light that you'll be staring into a glare. Use low-wattage LED lights that won't produce excess light in places where you'll be hanging out.
1. Wall Lights
One of the most common types of exterior lighting is a wall-mounted light. These lights are often seen next to doors and on porches to illuminate the door, making it easier to see when you come and go at night. They come in various styles, but wall sconces with an open bottom cast the maximum amount of light.
To ensure the most visibility, you should aim to mount your wall sconces near the top of the door or at shoulder height. This proximity will cast a downward light to help you see while you're unlocking your door — and at the same time, the light won't be shining in your eyes. Choose a sconce style that matches the architectural style of your home.
2. Garage Lights
Whether you use your garage simply as a place to store your car or as a workshop area to work on projects, you can use garage lights to illuminate the space. Many garage lights are motion-activated. This feature is effective because you can see at night, and the lighting will potentially scare off burglars and animals. Additionally, if you have a path leading to your garage door, you can install lights along that route to increase visibility.
3. Ceiling Lights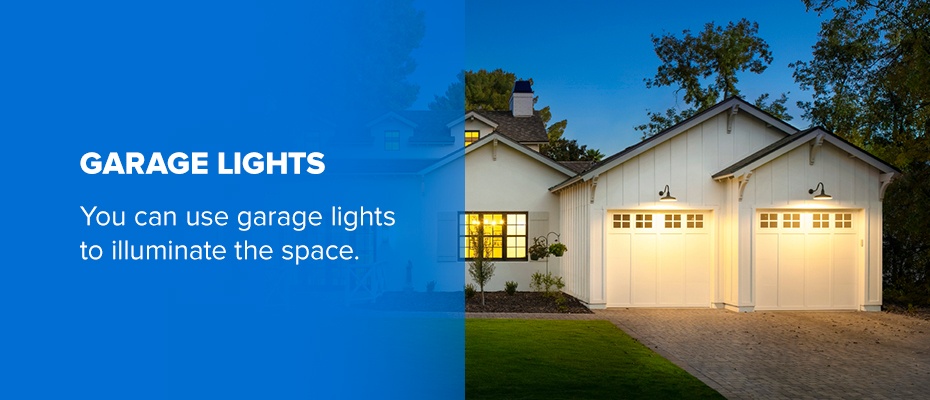 If you have a covered porch or patio, ceiling lights are basically a necessity. These lights cast a glow across the space, so you and your friends and family don't have to hang out in the dark. There are hanging lights, which are better for tall ceilings, and flush lights, which sit right up against the ceiling.
Hanging lights hang from a chain, rod or cord and have a lantern on the end. The lantern radiates light down and sideways. These lights will only work if they can be up high enough, so there's plenty of headroom for people walking underneath. If you have a dining table on your porch or patio, you can opt for a pendant light, which hangs lower.
Flush lights shine most of their light downward, and you can place them on any ceiling, no matter its height. These lights will cast shadows, but placing a small wall light nearby can easily offset them. Because these lights sit almost flush against the ceiling rather than hang from it, they can blend in while adding a subtle aesthetic touch.
4. Post Lights
The classic lamp post is another option for exterior lighting. You can place them anywhere on your property and they come in a wide range of styles. These lights radiate light in all directions, so they can light up large areas such as a yard or driveway. Placing one on either side of your driveway entrance creates a dramatic look that also makes your property easier to find.
5. String Lights
String lights can help create a soft, warm glow. They're perfect for creating a pleasant ambiance, especially around areas where you like to hang out. Because string lights aren't as bright as other light sources, it's best to use them with other fixtures to create the perfect environment.
To find the length you need, you can use twine over the area where you want to hang the lights and multiply the length by the number of strands you'd like to hang. Use a staple gun with 3/8 inch galvanized steel staples, but be careful to center the wire so you don't puncture it. If you'd like the lights to span more than 10 feet, you should first install guide wires. Then, you can install the lights on the wires to keep them from hanging down too much.
You can also wrap columns, banisters or trees with string lights. Just remember to use outdoor-quality lights so they can resist the rain and weather. For a warm, decorative twinkle, opt for smaller bulbs, as larger bulbs are best for creating bright and direct illumination.
6. Pier-Mounted Lights
Try mounting outdoor lanterns on top of a wall using a pier-mount adapter. If your driveway or walkway has a low wall on either side, you can light the way with pier-mounted lights. As an outdoor lighting idea for the front of your house, you could use pier-mounted lights on either side of your front steps.
7. Step Lights
If you have outdoor steps, it's a necessary safety precaution to install lights around them. This trick will help prevent any tripping accidents. Try using recessed lights, which are an effective option because you can install them in your steps. As a result, you can see the path in front of you but won't risk falling over the lights themselves.
Landscape Lighting Ideas
The goal of landscape lighting is to accentuate the features of your garden and lawn. Remember to only use fixtures rated for outdoor areas so your lights don't become damaged from the weather. Another point to consider with outdoor lighting, especially landscape lighting that's farther from your home, is how the wiring will get to the light.
This type of lighting usually uses power from your house that goes through a transformer to bring down the volts. It's crucial to use low-voltage landscape lighting to ensure safety. If you're unsure how to install your landscape lighting, it's best to hire a professional, as the installation requires burying the cable in the ground.
Another option is solar-powered lighting. This choice will save you the trouble of setting up a transformer and laying cables — but make sure to position them in a place where they'll receive plenty of sun during the day. When combined with LED lightbulbs, you can save on energy costs with your solar-powered landscape lights.
Types of Landscape Lights
Whether you want to show off your garden or pond, there's a type of landscape lighting to help you out. These lights will help draw attention to your favorite features while also making your outdoor space safer. The right amount of lighting will illuminate the area without drowning it in light.
If you're using any of the lights with visible fixtures, like floodlights, bullet lights and wash lights, consider hiding them. Do so by piling rocks around them, making them unnoticeable during the day but allowing them to shine at night. Here are a few types of landscape lights to consider:
1. Garden Lights
Garden lights are typically 18-24 inches tall and have a canopy on the top so all the light casts downwards. These lights are for illuminating garden beds or pathways and won't create a glare. Use these to show off your prized flowers or guide guests up a walkway.
2. Wash Lights
Wash lights radiate a wide, soft light you can position to shine at a different angle. Use wash lights to brighten flat walls or fences.
3. Bullet Lights
For a narrow beam of light, use bullet lights. These are great for lighting house features, trees or garden structures. These bullet-shaped lights are often used for spotlighting, also called up-lighting, which is when you shine a light beam upwards to showcase a plant or ornamental features of your house or garden. Since bullet lights cast a narrow beam, they're best for taller features like trees.
4. Well Lights
These lights are buried in the ground in a waterproof casing, meaning you get the light without having to see the fixture. You can use well lights to illuminate the underside of plants or light up the front of a facade.
5. Floodlights
Floodlights cast a beam that's wider than a bullet light and brighter than a wash light. You can use these to light up prominent features such as fountains, structures or wide facades. Floodlights can even radiate enough light to light up a whole patio or garden.
6. Downlights
Downlights are located on top of high branches or walls to cast light downwards. When cast onto the tree's foliage, they can create a stunning moonlit effect. You can also aim the light at lawns or paths.
7. Smart Lights
Create a beautiful, functional and inviting outdoor space with smart landscape lighting you can control with a smartphone or remote. This solution is perfect for when you want a well-lit property but don't want to worry about turning on each individual set of lights each night. In many cases, you can set your lights on a timer so they'll turn on and off on their own.
Landscape Lighting Techniques
Get creative and use a variety of lighting techniques to create the best effect.
Highlighting: Highlighting is a common technique where you place a spotlight at the base of an outdoor feature, like a tree, fountain or statue.
Spotlighting: Placing a spotlight behind a feature is another option. This trick will cast a dark outline of the object and can create interesting effects.
Shadowing: Shadowing is when you place lights in a way that purposely uses shadows. This strategy is typically achieved by shining a light through a tree's foliage so the tree's shadow is still visible.
Pool Lighting Ideas
Lighting up the area around your pool increases safety and aesthetics. There may be certain features around your pool you'd like to highlight, or you may have steps and paths you want to illuminate for safety. Either way, how you light the area around your pool depends on how it's designed. Consider the types of features located in the surrounding area. This strategy will help you place lights in a way that ties everything together.
Pool Lighting Locations
Where should you place outdoor lights around your pool? Here are several ideas:
Steps: Lights can be embedded in steps or risers to make the area around your pool safer and more functional. Tripping is especially dangerous near a pool, so make sure the area is well-lit.
Paths: Light the paths and walkways around your pool with standing path lights or embedded lights. You may consider solar path lights so you don't have to run the cable out by your pool.
Perimeters: The pool's perimeter can be lit up to ensure it's easy to navigate when it's dark. You can also light up fences with wash lights to create an attractive effect.
Patios: Patios and seating areas should also have lighting to create an inviting place for people to hang out before and after taking a swim in the pool. These spaces can be lit up in numerous ways, whether with post lights, hanging lanterns or string lights.
Trees and plants: Use accent lighting to increase the beauty of the space and draw attention to your favorite plants and trees. Refer to the types of landscape lights above to find the best light for what you have around your pool.
Decorations: Light up statues, fountains or ponds so you can enjoy them even when the sun goes down.
Garden beds: If you have garden beds around your pool, you can light those up, as well. Use garden lights or well lights to make the plants stand out.
Pool Lighting Placement Options
Placing lights around your pool comes with a few extra challenges. You could place in-ground or recessed lights to light up the area without the risk of someone tripping on a light fixture. Another option is called moonlighting, which allows you to light the pool area from above with lights mounted on trees or roofs. A third option is lighting your pool area with stylish tiki torches. Consider a combination of various placement tricks to create the perfect environment.
Where to Light Areas Around Your House or Garage
Lighting up your house and garage increases the functionality, security and style of your home. Exterior lighting reduces the risk of tripping or falling when it's dark out and allows you to enjoy the outdoors even after the sun goes down. Outdoor lights also increase the safety of your home, especially if you have motion-activated lights. Lights increase the visibility of your property and will likely deter potential burglars, and a sudden light coming on will also scare away animals and pests. Lighting up the attractive features of your home will also increase curb appeal and enhance the style of your whole property.
Front door: Mount wall lights on either side of the door at or above shoulder level to make sure you get enough light. You can hang a lantern instead as long as you have a covering over your doorway. Lanterns with frosted glass are easier on the eyes and won't create a glare. If you have steps leading up to your front door, you may need to install step lights to reduce the tripping risk.
Side and back doors: You can also light up any side or back doors to your home. Whether it's another wall light or something else, you'll enjoy being able to see at times you need to use those doors. If you don't need light there very much, consider using motion lights. That way, the light will turn on when you need it and you won't have to think about turning it on and off.
Patios, porches and decks: There should be lighting anywhere people will gather, which includes seating areas like patios, porches and decks. You have many options for lighting up these areas. You can use string lights, recessed lights, wall lights, hanging lights or post lights, depending on the area's design. Use dimmer, more yellow light for an inviting atmosphere, or use bright white lights to create a functional, lit-up space.
Walkways: Lit-up walkways and paths increase safety and look good. Solar-powered path lights are an easy and attractive option, as you won't have to worry about laying cable or turning lights on and off.
Driveway entrance: If you have a long driveway, consider lighting up the entrance to make your property easier to find. Post lights on either side of the driveway create a dramatic effect and can help guests and emergency vehicles find your home when it's dark. It's not necessary to light up the whole length of the driveway because of your car's headlights, but you can use a few low, soft path lights on either side to highlight the edges.
Garage: Using motion sensors for your garage door lighting makes coming home a more pleasant experience. Each time you come home in the dark, you'll have plenty of light to navigate and you won't have to bother turning the light off. Motion lights on the garage are also a good way to deter burglars and destructive animals. Use accent lighting to highlight your garage and the landscaping around it.
Spruce Up Your Exterior With a New Garage Door From Easy Open Door
Exterior lighting is a great way to enhance your home's curb appeal and draw attention to the beautiful aspects of your property. If you don't have a garage door you're proud to show off, it may be time to invest in a new one. Garage doors are often a huge part of curb appeal, so if you're putting work into your landscape and home exterior, it also makes sense to have a beautiful garage door. With a few outdoor garage lights, your property will look beautiful.
Easy Open Door is a premier Clopay garage door dealer. We're family-owned, and all the employees on our team have more than 15 years of experience in the garage door field. Contact us today to learn more about our garage door options.